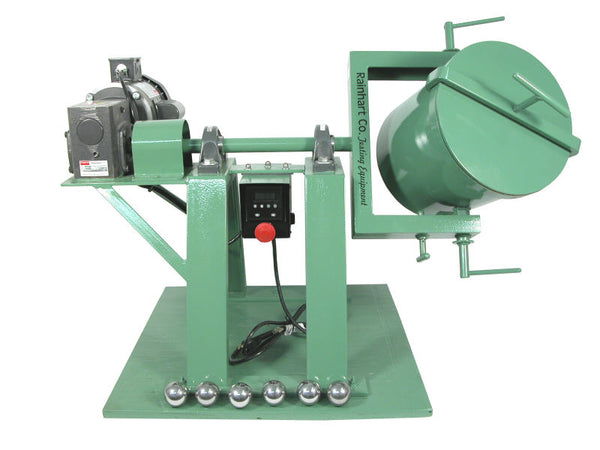 Current Lead Time - Call for a Quote
The Rainhart Aggregate Wet Ball Mill is used to determine the resistance of aggregate in flexible base materials to disintegration in the presence of water. These results are essential in determining whether the base will resist crushing, degradation, disintegration, and premature structural failure. Simply place a sample in the rotating bucket with six steel charges. The bucket will rotate 600 times at a speed of 58-62 rpm, for approximately 10 minutes. After the rotation is complete the mass of the remaining aggregate is weighed and compared with the original weight to determine the WBM value. A lower value will indicate a tougher aggregate more resistant to abrasion, essential to a quality base.
Features & Benefits:
Meets TxDOT TEX-116E

Watertight bucket seal

User-friendly programmable counter

New Feature! Bench or shelf mounted counter for added safety

Single push button operation

Includes 6 Steel Charges
Specs:
Weight: 170lbs

Dimensions: Approximately 44"W X 24"D X 32"H

Freight: 48" X 48" X 35"

Motor: 115vac / 60 hz, Approx. 8AMPS

220vac / 50 hz, Approx. 4AMPS, OPTIONAL.
Ensure your base material will resist degradation, disintegration, and structural failure.